PDF HELP PAGE
(Portable Document Format)
Marco Men's Club, Sportfishing Club

Please read this help page if you are having trouble viewing PDF files on this website.
Use your 'Back Button' to return to the previous page.
The first thing you should try is to click on another PDF file. For example, if you are looking at the newsletters and one doesn't work, try another. If it works, the webmaster may be the problem. Maybe I screwed up! (It happens!) CONTACT ME right now.
If nothing works, you may have to install the ADOBE Acrobat Reader on your computer to read PDF files. Most computers come with the reader already installed. However, if you are having trouble, you may need to upgrade or download a fresh copy. The reader is available as a free download from Adobe. Click on the link below to download and install the free reader.
After you click the above link, you will see the screen below. Follow the instructions in step 1 to select your operating system, proceed to step 2, select 'latest version' and download and install the latest Adobe Reader. That's all there is to it. This is way beyond simple...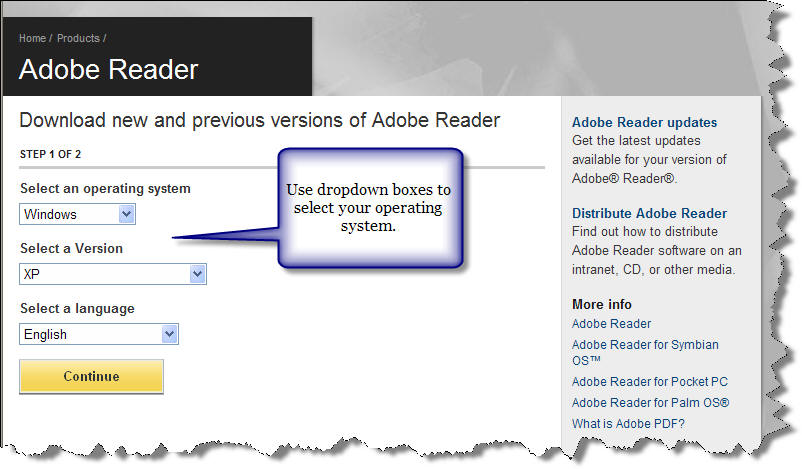 Note:
Many of you may have been prompted to upgrade your Adobe Reader to version 8.1. This is a good thing to do. However, the latest version appears to have an increased level of security. Depending on which Browser you are using and how it is customized, you may see a pop up window or bar at the top asking you if you really want to download the document when you click on some of the links on this website. Just click "yes" or "ok" or follow the instructions. In addition, the PDF document may show up in a new window in your browser. You may have to look at the tabs typically located at the bottom of your screen next to the 'START' button to find the PDF file.
You can read more at this site:
http://help.adobe.com/en_US/Reader/8.0/help.html?content=WS00E809B7-1119-4416-8731-033B20B684B3.html
Some History: Why use Adobe and PDF files?
Invented by Adobe Systems and perfected over 20 years, Adobe Portable Document Format (PDF) lets you capture and view robust information—from any application, on any computer system—and share it with anyone around the world. Individuals, businesses, and government agencies everywhere trust and rely on Adobe® PDF to communicate their ideas and vision.
Files in pdf form are typically read only, unless you are an advanced Adobe user. The beauty of this format is that the file may be viewed and saved by anyone who has the free adobe reader, regardless of what program created the files. Click here to download the latest free Adobe reader Download Adobe Reader.

Imagine that you are a computer Whiz and you always have the latest software. You've just created a great document in the latest version of Microsoft Office Word and you send it to your friends (who are not computer whizzes, but just ordinary people, like me). Well, most of them will be unable to open it, and they'll think you are a jerk...definitely not good, eh? So, to avoid this, save it as a pdf and then send it. If they can't read it you can smugly tell them that they are just behind the times and that everyone has known about PDF's for the last 15 years.
Want to know more?
You can read about PDF files on our MMC Frequently Asked Questions page.
Follow this link and review FAQ's 5 & 7
or...Use your browsers BACK BUTTON to return to previous page.
If you are really lost, contact the webmaster and I'll try to help you out.
CLICK HERE TO CONTACT ME